N30m Fraud: EFCC arraigns herbalist who impersonates Baru, Adesina
1:06 AM
By YOUNG BLIZZY
NEWS
0 comments
The Economic and Financial Crimes Commission EFCC, Ilorin Zonal Office has arraigned a 31-year-old herbalist, Jamiu Isiaka on a four-count charge in a Kwara State High Court, before Justice M. Abdulgafar for impersonating the group Managing Director of the Nigerian National Petroleum Corporation, NNPC, Dr Maikanti Baru and the special adviser to the president on Media and Publicity, Mr. Femi Adesina and duping a Korean national in the process.
The suspect, with others at large, allegedly used the names of the senior government officials to scam a South Korean national, Keun Sig Kim to the tune of N30million (Thirty Million Naira) under a false pretence of securing for him an NNPC approval/marketing form and license certificate to buy crude oil in Nigeria.
According to Kim, "I transferred Four Thousand, Two Hundred and Eighty-five United States Dollars, Seventy-one cents only to the United Bank of Africa, account number 2107575870 in the name of one Jamiu Isiaka, an associate of Mr Shola Adeshina. It is noteworthy that this account particulars have been provided severally for me to make transfer to."
During interrogation with the officials of the Commission, Isiaka claimed that he used the money to conduct sacrifice for the petitioner. He further claimed to have bought a vulture, skin of elephant, elephant intestine, skull of a lion and liver of gorilla among others.
Count one of the charge reads: "That you, Jamiu Isiaka (a.k.a Femi Adesina ) between the month of April and September 2018 in Ilorin, within the jurisdiction of this honourable court, with intent to defraud, did obtain the total sum of $88,521,041 (Eighty Eight Thousand, Five Hundred And Twenty One Dollars, Forty-one cents] from a Korean national, Keun Sig Kim by false pretences that the monies was for the procurement of NNPC approval/marketing form and license certificate to buy crude oil in Nigeria, facts which you knew to be false and thereby committed an offence contrary to Section 1 of the Advance Fee Fraud and Other Fraud Related Offences Act, 2006 and punishable under Section 1(3) of the same Act."
The defendant pleaded not guilty to all the charges.
In view of his not guilty plea, the prosecuting counsel, Andrew Akoja asked the court for a trial date and prayed that he be remanded in prison custody.
Justice Abdulgafar ordered the accused to be remanded in Mandala Prisons and adjourned the matter to June 19, 2019 for commencement of trial.
by Linda Ikeji at 15/06/2019 12:27 AM
|
3 Comments
Share this Story
Most Read Stories


Naomi Campbell, 49, goes completely naked during new photoshoot in Kenya (18+photo)


Nigerian lesbian lady, Moji Solar-Wilson, shares new photo with her wife


Lady killed, pushed out of bus naked after being robbed in Lagos (photos)


Medical doctor strips to her underwear then jiggles her breasts as she prays for her followers (video)


Woman who went into a coma after being thrown out of moving one-chance bus narrates her shocking ordeal (photos)


Regina Daniels, 20, gushes over her billionaire husband, 59, shares photo of him on Instagram


UNILAG student receives bouquet of Dollars from a crush who wanted to get her attention (video)


The interesting way Keanu Reeves takes photos with women


Gulder Ultimate search contestant narrates his experience before and after the show in an eye opining thread (screenshots)


Who knew ex-BBNaija housemate, Lolu, was this savage....choi


Video: Watch the emotional moment actor, Adunni Ade's son wept while saying a heartfelt prayer for her at her birthday dinner


ABC News lists 58 genders that people now identify with and the reaction from some Nigerians is hilarious
Previous
Next
Comments (3)
Disclaimer
Comments expressed here do not reflect the opinions of lindaikejisblog.com or any employee thereof.
Emmanuel Kachi
about 8 hours ago
Too bad. #kachiLike this! 0Dislike this! 0Reply
Emmanuel Echo
about 6 hours ago
He is in real trouble. *†*ECHOMASS*†*Like this! 0Dislike this! 0Reply
innocent ugo
about 26 minutes ago
Jail hinLike this! 0Dislike this! 0Reply
Add your comment
Anonymous
Submit Comment
Older Posts...
Femi Otedola foots medical bill of ailing ex-goalkeeper, Peter Fregene
Billioanire businessman, Femi Otedola, has come to the aid of ailing former ...
by Linda Ikeji at 14/06/2019
|
61 comments
Olympic champion and intersex athlete, Caster Semenya denied entry into 800m race in Morocco
South African Olympic champion and intersex athlete, Caster Semenya has ...
by Linda Ikeji at 14/06/2019
|
31 comments
Telenovela star, Edith Gonzalez dies at 54, three years after she was diagnosed with ovarian cancer
Mexican telenovela star Edith Gonzalez is dead. She died on Thursday at the ...
by Linda Ikeji at 14/06/2019
|
23 comments
'Its time to begin an impeachment inquiry into President Trump' - Former FBI Director, Andrew McCabe
Former acting FBI Director Andrew McCabe on Thursday said that the time has ...
by Linda Ikeji at 14/06/2019
|
26 comments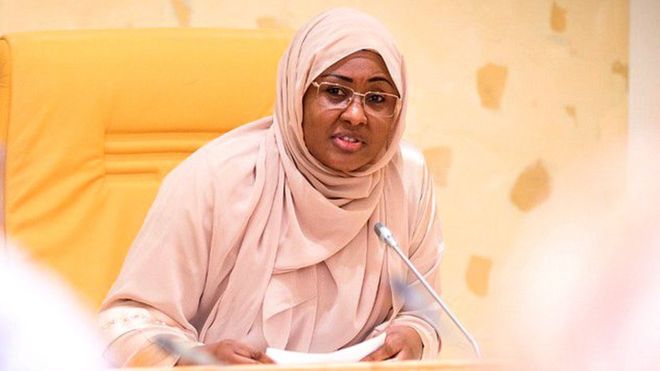 Now I choose to be called first lady -Aisha Buhari
The wife of the President, Aisha Buhari, says Nigerians can now address ...
by Linda Ikeji at 14/06/2019
|
71 comments
Court remands fake EFCC's employment officer in prison
Justice J.K. Omotosho of the Federal High Court sitting in Port Harcourt, Ri ...
by Linda Ikeji at 14/06/2019
|
9 comments
"Igbo Presidency doesn't exist" Okorocha cautions Southeast
Newly sworn-in Senator Rochas Okorocha, has informed Nigerians from the Sout ...
by Linda Ikeji at 14/06/2019
|
62 comments
What do you see when you follow the instructions in this photo
This photo is trending on Twitter. It's an optical illusion and you have ...
by Linda Ikeji at 14/06/2019
|
44 comments
Toronto Raptors win their first ever NBA championship with Game 6 victory over Golden State Warriors
Last night, the Toronto Raptors became the 2019 NBA champions and they ...
by Linda Ikeji at 14/06/2019
|
18 comments
Photo: For contributing to his rent many years ago, MC Galaxy gifts his friend Ubi Franklin N3m
Singer MC Galaxy has paid forward a good deed music executive, Ubi Franklin, ...
by Linda Ikeji at 14/06/2019
|
59 comments
Gay makeup artist shares message she received from homophobic bride-to-be who wanted her to do her wedding makeup
A gay makeup artist has shared screenshots of messages she received from an ...
by Linda Ikeji at 14/06/2019
|
45 comments
Chelsea boss Maurizio Sarri set to be named new Juventus manager
Chelsea boss, Maurizio Sarri is set to be named new Juventus manager ...
by Linda Ikeji at 14/06/2019
|
11 comments
Father who murdered his five children is sentenced to death
A South Carolina father has been sentenced to death for killing his 5 childr ...
by Linda Ikeji at 14/06/2019
|
32 comments
Lagos Set To Witness The Best Of Fuji, Juju & Afro-pop As Ariya Repete Comes To Town
If you love good music, then you do not want to miss the selection parties f ...
by Linda Ikeji at 13/06/2019
|
5 comments
Denrele Edun, Juliet Ibrahim, Beverly Osu, Kehinde Bankole, Kaffy and other top celebrities to grace Miss Tourism Nigeria 2019 grand finale
All is set for the 8th edition of Nigeria's biggest tourism pageant and ...
by Linda Ikeji at 14/06/2019
|
8 comments
Young Nigerian amputee footballer reveals how he became physically disabled
A young Nigerian graduate and a member of the Nigeria Amputee Football Team ...
by Linda Ikeji at 13/06/2019
|
23 comments
News/Tip-off
Advertise with us
© Copyright LindaIkeji 2019